Natural Building Workshop at Rancho Mastatal
I have been meaning to visit Rancho Mastatal for almost 10 years now, and for one reason or another it didn't happen til this year.  Sally and I were able to find a few days to visit Mastatal a few months ago, and we quickly fell in love with the energy and the people there.  Rancho Mastatal is a permaculture center that has been in operations for over 25 years, and they are thoughtfully focused on education and community.  During our first visit we took a few workshops which really opened my eyes to the viability of many aspects of permaculture.  At Toji and Dos Colinas, we want our sustainability solutions to be realistic and accessible to the masses, and my initial thought was that the idealogy of permaculture was probably too extreme or "hippy" for most people to adopt, but upon visiting I found that there are so many parts of permaculture that we can implement in our community to help reduce our impact and our use of natural resources in simple ways.
"The hard work was visceral and connected us to the Earth and to each other…we learned a ton, and laughed even more." 

-Jay Webb, Toji Owner
After Sally and my first visit, I decided we needed to bring the team to learn from the 25 years of experience that Mastatal had to offer.  The first workshop had to be the natural building class.  Not only is our construction wing the most impactful to the environment out of our community's processes, but getting your hands and feet in the mud just seemed like it was right up our alley.  I was not mistaken, the hard work was visceral and connected us to the Earth and to each other.  We learned a tone, and laughed even more.  Mixing the clay by stomping (or for some dancing) barefoot was certainly an experience to remember.
*(pictured above) Sofi, Gerald, and Hunter were having a little too much fun playing in the mud!
Building with Clay - 2 distinct methods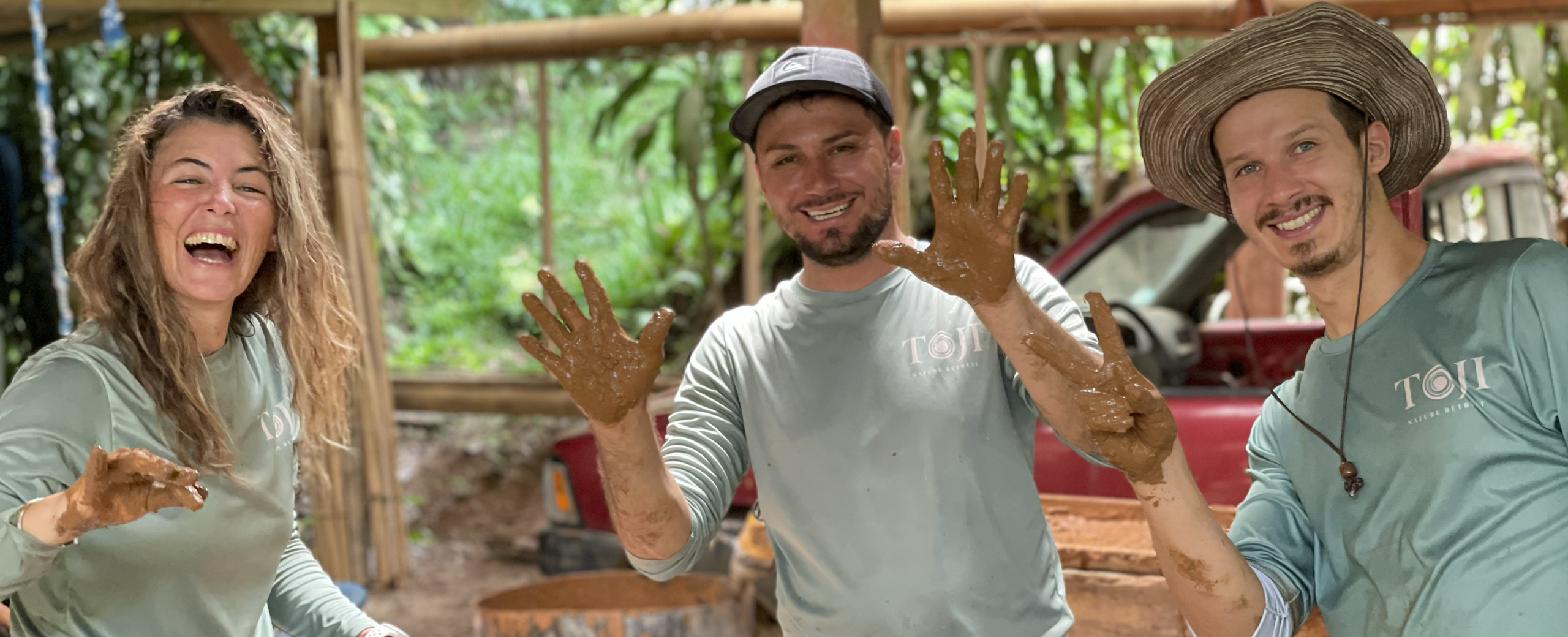 Rancho Mastatal utilizes two main methods of Adobe construction, the first being the creation of Adobe clay bricks, and the second being the building of mud walls using waddle and daub, also known as "bahareque".  Nic is the head of construction and natural building at Mastatal, and his breadth and depth of knowledge on the subject is limitless.  We were able to learn about and practice both methods, and Nic helped us figure out what might be possible in our own construction processes to incorporate some use of adobe clay.  Our farm had an abundance of clay in the soil, and Nic even offered to test the clay with us to determine what would be a proper ratio of clay/sand/substrate for our specific clay from Dos Colinas.
* Team Members learning the mud wall, bahareque method.
* Learning by doing: our mud bricks got better and better every try.
OG Capitalism perspective: The act of work, in itself, is a part of genuine wealth
Stripping out what has been marketed to us as the definition of success and discovering our own definition of wealth and happiness is one of the most important elements to freeing oneself from the broken capitalist system and into capitalism of the OG.  There are two principles that came to mind instantly after this workshop, one being "work is human in nature" and the second being "Creating Genuine Wealth" .  There is no better feeling than working with your hands and building something together from the materials that the Earth is giving to us (with almost no financial compensation needed).  It's empowering and also eye opening.  The Japanese culture has been building with clay for centuries, and Mastatal is passing on those lessons to all of its lucky students.
Thank you to Tim, Robin, Nic, and the entire team at Rancho Mastatal for giving our team a day to remember, and we hope we will be building some clay structures very soon on our farm!