Regenerative Food Forest
Healthy Soil = Healthy Food = Healthy Humans
Our regenerative and organic food forest has been designed by Agronomist Engineer, Sophia Maria Allende, and is focused on restoring the natural soil health to our lands.  By growing a diversity of species, no-till sewing, and a variety of other organic methods, Toji and the larger Dos Colinas community are creating a long-term healthy food production strategy for our visiting guests and the humans who live and work here.  Healthy food is a human right that becomes less and less accessible each year in our society, and we hope to inspire communities to take control over their food and health.
Community Compost
Moving Toward Zero Food Waste
Toji offers compost bins in every room and kitchen to ensure that all organic matter and nutrients get back into mother nature's carbon cycle.  Our circular economy is all about turning waste into value, and composting is one of the simplest ways we can all do that. 
What We Grow
Strength in Diversity
Our botique farm is in the first few years of operations, but we are already producing a wide range of fruits and vegetables that mimic the diversity found in nature. The farm provides produce and farm fresh eggs to the Toji Kitchen and community members.  Our food forrest produces green beans, cherry tomatoes, okra, mungo beans, yuka, a variety of lettuces, herbs and medicinals. The food forrest has a diverse offering of tropical fruits as well; like star fruit, plantains, bananas, pineapples, papaya, guanabana, and rambutan.   Whether it is a fresh juice or salad, our ingredients are always fresh and organic, provided by our own farm or a local nearby farm.
Why We Grow
Understanding the connection with our food is a great first step to a more rewarding life.  The more we feel the connectivity to the natural resources we put into ours and our loved ones bodies (air, water, food, etc.) the more we will naturally want to protect and minimize our consumption of these resources. Plus, fresh food just tastes better!
Farm Tours
Immersive Education
Visit our growing regenerative agriculture food forest, and walk one of the trails on our protected wildlife nature reserve. This educational guided hike will teach you some basic principles of regenerative practices, connect you with some native species of Costa Rica, and introduce you to the diverse and circular ecosystem where Toji resides.
Price: $10 per person, $80 minimum Duration: 90 minutes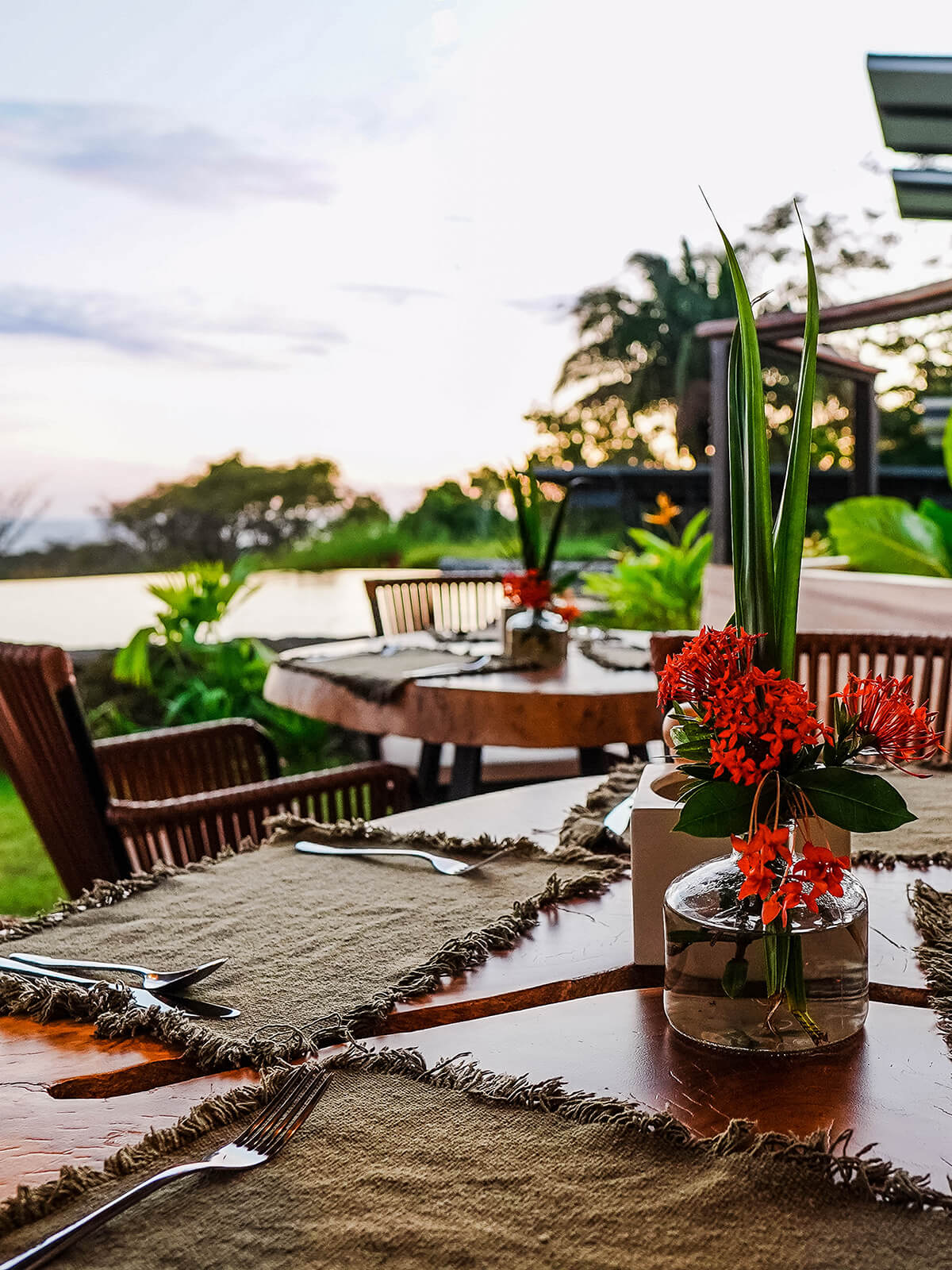 Chef Michael Bebault
Executive Chef Michael Bebault mastered his culinary skills on the remote West Coast of Vancouver Island in Canada, Chef Michael Bebault relocated to Costa Rica in 2003. Chef's culinary philosophies fit perfectly with the abundance of fresh ingredients available in our Central Pacific region of Costa Rica. From our farm fresh produce and free range eggs, to "just caught" seafood, Chef Mike is able to provide a deliciously memorable experience.
Locally Sourced
First and foremost, the nourishing food we serve at Toji Nature Retreat is locally sourced, whenever it is at all possible.  If ingredients cannot be produced at our own farm, then the staff looks to local markets and organic farms/coops.  The benefits of locally sourced vegetables, fruit, fish, meat, and dairy have immeasurable impact on the health of our bodies and the health of local socioeconomic systems.  Processed, mass-produced food has created enormous health complications for societies across the globe, and we can each choose not to participate. 
Simple Elegance
When fresh ingredients are utilized, the menu itself does not have to be overly complicated.  Having a reduced number of offerings allows the kitchen to be focused on perfecting a few dishes, and helps reduce shopping time and food waste.  Simple, comforting with the right touch of elegance in the plating and presentation.
Reducing Kitchen Waste
Following our communities theme of discovering realistic solutions to reduce waste, our kitchen finds as many ways as possible to keep its waste to a minimum.  Practices like guest pre-orders, pre-trip communication, and donation programs can help reduce food waste, and use of sustainable kitchen and serving items during dining operations help reduce plastic waste.  All ideas to continue this effort are always welcome from any guest or staff member.  
Ocean View Dining
Our main dining area offers a gentle breeze, passing scarlet macaws, and a stunning view of the Pacific Ocean.  Quite a memorable place to enjoy your morning brew of fresh Costa Rican coffee.  
Let us know your FOOD &MENU questions